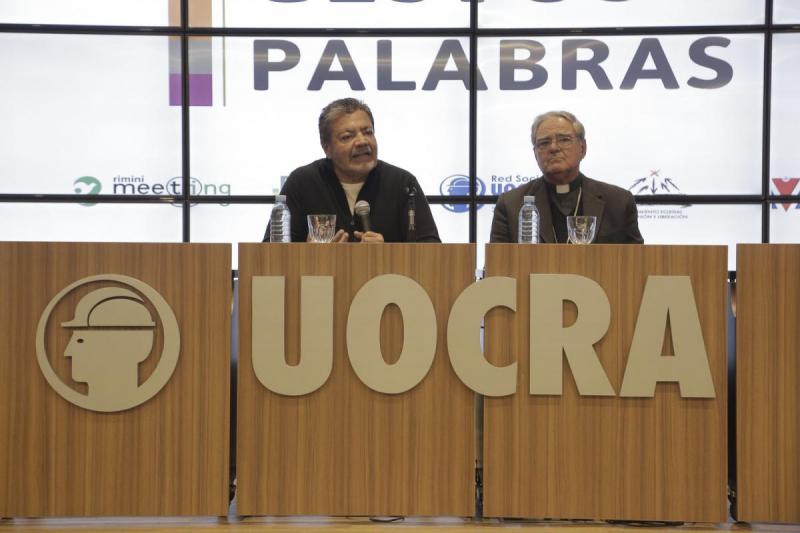 12/7/2019
GERARDO MARTINEZ AND MONSIGNOR OSCAR OJEA HEADED THE PRESENTATION OF THE EXHIBITION AT UOCRA CULTURAL SPACE
EXHIBITION: ACTIONS AND WORDS. JORGE BERGOGLIO, AN ORIGINAL PRESENCE
Gerardo Martínez, UOCRA General Secretary, and Monsignor Oscar Ojea, President of the Argentine Episcopal Conference, headed the act opening of the exhibition: ACTIONS AND WORDS, JORGE MARIO BERGOGLIO, AN ORIGINAL PRESENCE. Said exhibition will be open to the public from 11 to July 14 at UOCRA Cultural Space located in the main headquarters on 1850 Belgrano Av, City of Buenos Aires. 

This exhibition was jointly organized on this occasion by the Ecclesial Movement Communion and Liberation and UOCRA, through guided tours, the exhibition shows, in seven documented sections with images and testimonies, the rich life of Jorge Bergoglio before becoming Pope Francis, and emphasises how, through his actions and words, Francis strengthens and promotes the culture of gathering,  the option for the poor, his vocation to serve, his ecumenical will and his sermon for a fairer and more supportive world. 

The exhibition was presented last year at the 39th Meeting for Friendship among Towns, in Rimini, Italy. The curators were Horacio Morel, Débora Ramos and Alejandro Bonet. During 4 days, different exposition and debate tables were organized along with personalities from the ecclesiastical, political, cultural and interreligious world. Among the personalities, who took part in this exhibition, are Monsignor Enrique Eguía, Pro-Vicar General, Dr. Graciela Cantoni, Teacher at the Faculty of Exact Sciences of La Plata, Juan Carlos Schimd, leader of Dragado and Balizamiento Trade Union and the journalist and writer, Sergio Rubin. 

For the closing event on Sunday 14 at 5.30, there will be a mass in charge of Father José María ";Pepe" Di Paola.