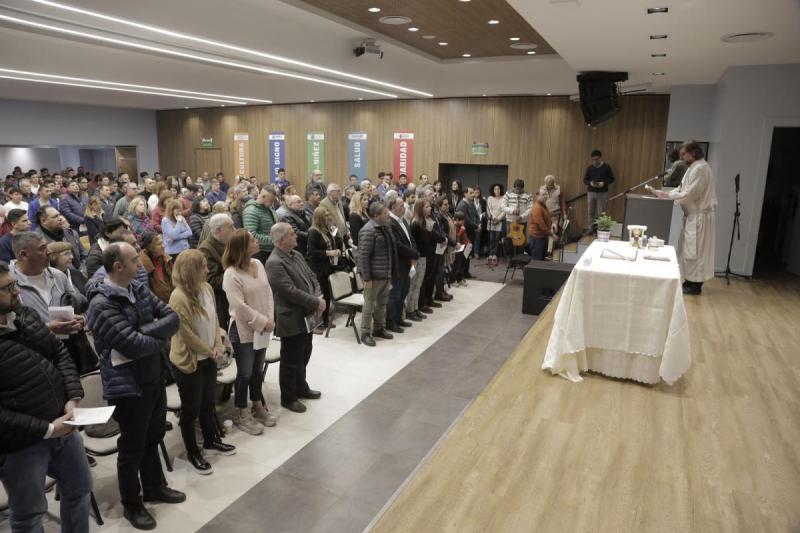 15/7/2019
CLOSING OF THE EXHIBITION ACTIONS AND WORDS AT UOCRA CULTURAL SPACE WITH THE PRESENCE OF GERARDO MARTÍNEZ AND A MASS CELEBRATED BY FATHER PEPE DI PAOLA
Gerardo Martínez, UOCRA General Secretary, took part in and accompanied the closing day of the exhibition ACTIONS AND WORDS, JORGE MARIO BERGOGLIO AN ORIGINAL PRESENCE, which was open to the public from 11 to 14 July at UOCRA Cultural Space and it culminated with an emotional mass celebrated by Father José María ";Pepe" Di Paola in front of more than 150 people. 
Father Pepe, contributor close to Jorge Bergoglio for years and referent of the so-called slum priests who do a significant job on social support and prevention of addictions in the poorest neighbourhoods, recalled, with several anecdotes in his message, the permanent vocation of Pope Francis for getting involved in the issues of the world's most marginalised groups in society           and in the commitment to lead by example the values of solidarity. 
This exhibition was jointly organized on this occasion by the Ecclesial Movement Communion and Liberation and UOCRA, through guided tours and exhibition shows. It approached through seven documented sections with images and testimonies, the rich life of Jorge Bergoglio before becoming Pope Francis, and emphasised how, through his actions and words, Francis strengthens and promotes the culture of gathering,  the option for the poor, his vocation to serve, his ecumenical will and his sermon for a fairer and more supportive world.