PRESENTATION DAY OF AUDIO-VISUAL MATERIALS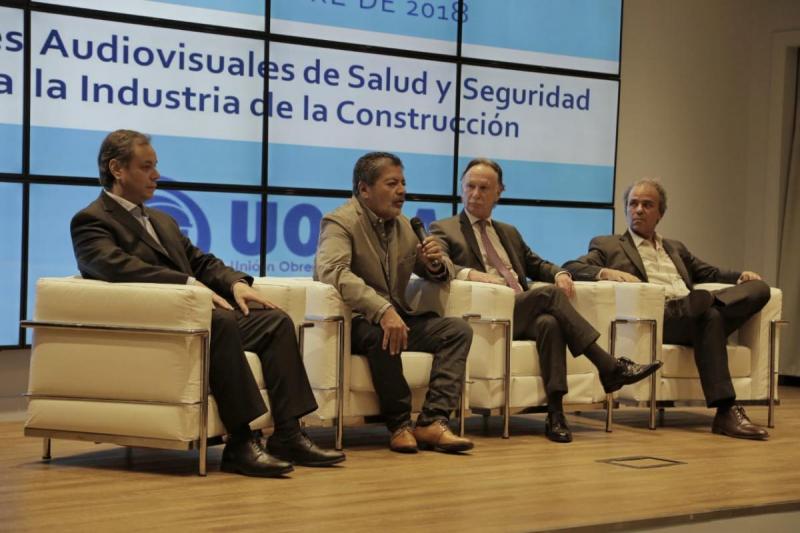 23/11/2018
GERARDO MARTÍNEZ: PRESENTATION DAY OF AUDIO-VISUAL MATERIALS ON HEALTH AND SAFETY FOR BUILDING INDUSTRY
MORE AWARENESS AND CONTENTS ON HEALTH AND SAFETY
Within the framework of the permanent prevention actions of UOCRA, several awareness and prevention materials were presented at ECU, UOCRA'S CULTURAL SPACE for broadcasting purposes on social networks and on channel CONSTRUIR TV. UOCRA General Secretary, Gerardo Martínez; SRT General Manager, Guillermo Arancibia; Chairman of the Argentinian Chamber of Construction, Gustavo Weiss and IERIC Executive Manager, Juan Martin Canedo attended the opening act. 

After the opening, Sebastian Orrego and Ricardo Lopez gave talks on the Parity Project CAC – UOCRA within the framework of IERIC where 21 short reports (short-duration spots) were designed and developed to be announced through mobile apps and to achieve greater replicas so that workers, technicians and professionals can apply measures to improve working and environmental conditions and to reduce accident rates in our industry. Two short reports were exhibited, one on ";presentation" and the other on ";demarcation-signalling". 

Subsequently, Viviana Martínez, Chief of the Department of Training, gave talk on SRT UOCRA Agreement where 6 spots were created on the use of protection and prevention measures in tasks related to: Machinery and Tools (Welding Work and Use of the circular saw table), Movement of loads (Manual transport of loads and Forklifts), Works at height (Use of safety harness and Collective Protections against falls), this one being the last video shown. 

Finally, an UOCRA's institutional spot on the ultimate achievements for manual loading transports was exhibited and UOCRA General Secretary, Gerardo Martínez gave talks in which he emphasized the importance of the resolution 42/2018 of the SRT, in which companies are obliged to carry out the manual loading transport through mechanical means for materials in bags with no more than 25kg. 

Afterwards, he gave talks on resolution 54/2018 of Secretary of Trade and Interior by which supplier companies are obliged to bag with a weight ";NOT exceeding 25kg", improving in this way working conditions and focusing the action on the weight of concrete bags and their handling. He also emphasized the generation of proposals of trade union organizations and the fight for the continuous improvements for working conditions and to achieve a sustainable industry for building workers.