WORLD DAY FOR DECENT WORK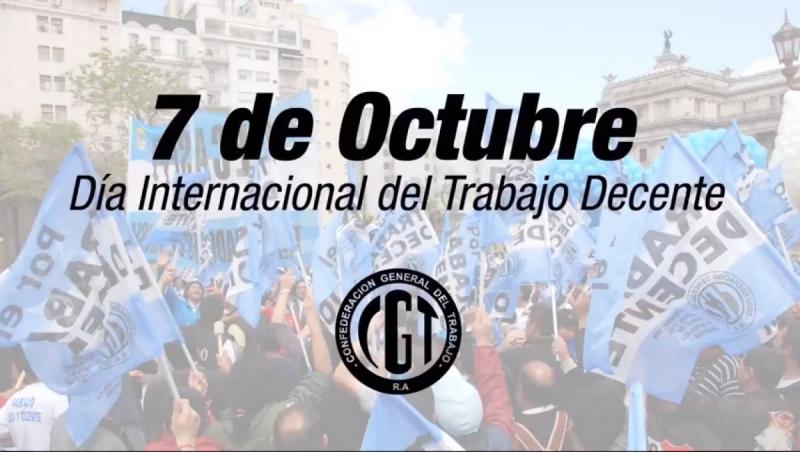 7/10/2017
UOCRA PARTICIPATES IN WORLD DAY FOR DECENT WORK
CGT - TUCA - ITUC
ON THIS 7 OCTOBER, WORKERS OF THE AMERICAS AND AROUND THE WORLD EXPRESS OURSELVES ON THE WORLD DAY FOR DECENT WORK.
On the 10th anniversary of the World Day for Decent Work (WDDW), CGT, in line with the initiative of Global Trade Union Movement, supports a comprehensive system of social security to be extended through active policies of protection, the inclusion of all workers.
For the defence of labour rights, we demand the States control of workplaces.
We reaffirm our commitment to a sustainable and inclusive guarantor State.
Workers are part and want to be heard.
It is quality employment, consistent policies against unregistered employment, actions that will promote the transition from informal into formal economy. A more progressive tax structure with a management that punish tax evasion, detect and encumber illicit financial flows. These aspects not only contribute to sustainability of public accounts and social protection, but also they move forward in pursuit of social justice, which remains an objective that Argentine workers cannot give up.
There is no decent work without social protection, a setback in rights of social security, wages and the quality employment, undermine social justice.
Gerardo Martinez: "Workers in Latin America, workers in Mercosur, workers in Argentina are celebrating, on this 7 October, another edition of Decent Work, a very special day, a day that has to do with the sense of militancy, union movement's struggles for a better life. From ILO, we have disseminated a universal message on the importance of Decent Work which has to guarantee decent employment and quality of working conditions. For this reason, workers in Argentina, workers in Mercosur, spend this day as a day to reinforce militancy in order to provide our fellow workers, call our fellow workers, and achieve a reflection from the States that have a leading role, because they have in their hands the police power, the power to control, the power to arbitrate conditions and resources towards dignified and decent work. 
In this sense, we specifically think, objectively, within pragmatism, that verbosity is not enough, speeches are not enough, it is necessary that we have a range on the political definition of State in each Government, addressing what decent and dignified work means. We are committed, but what we are doing is not enough, we have to do much more. We have to show that passion, that militancy, ensure social dialogue, without them it is very difficult we can make decent and dignified work true. Therefore, dear fellow workers, today more than ever, as we usually say, we must convey strength in our convictions, strength in our decisions, we have reason and truth on our side, therefore we must be persuaded that we need dignity to have decent work. Speeches are not enough, postulates are not enough, we need concrete government action to make it a firm guarantee in practice and in fact, so as every worker, our workers, can be guaranteed decent work."