PRESS RELEASE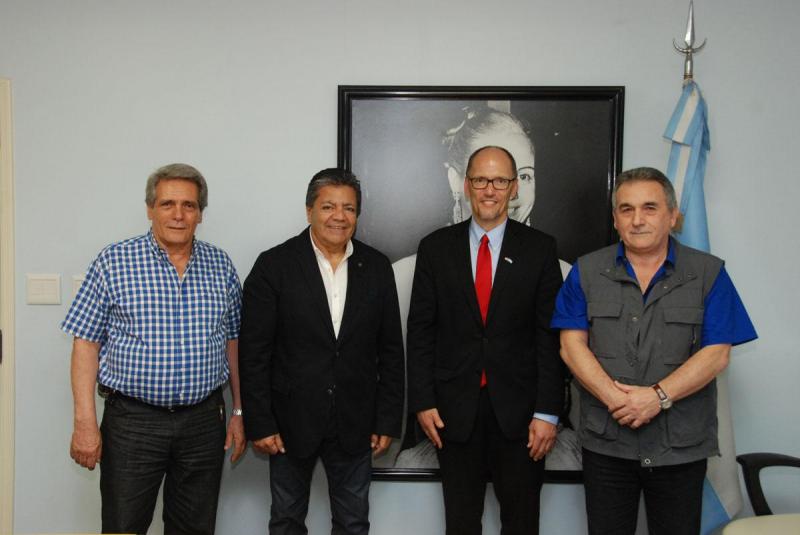 15/11/2016
AT UOCRA HEADQUARTERS, CGT HIGH MANAGEMENT AND MEMBERS OF THE BOARD OF DIRECTORS MET THE UNITED STATES' SECRETARY OF LABOUR AND ITS AMBASSADOR IN ARGENTINA
PRESS RELEASE
At UOCRA headquarters, Gerardo Martinez as host and architect of the meeting, CGT high management, represented by Juan Carlos Schmid and Carlos Acuña, accompanied by several members of its Board of Directors, received Thomas Perez, Secretary of Labour under Barack Obama's Administration and the Ambassador of the United States in our country, Noah Mamet.
US official delegation in this meeting was escorted by Mark Mittelhauser and Marcia Eugenio, members of the US Department of Labour and Albert Kraaimoore, Political Counselor of the Embassy.
Also, Andrés Rodríguez (UPCN), José Luis Lingeri (Obras Sanitarias) and Mario Calegari (UTA) were CGT representatives.
The meeting, that lasted an hour and a half, dealt with different issues related to the world of work and impact on employment rates at global level, especially those related to the impact of new technologies on employment creation, the need of training and job retraining, the youth employment issue and the need of articulating regional policies to tackle unregistered, forced and child employment.
As regards the picture of employment situation at national level, trade union leaders expressed concern about the impact of the imports, which displace local workforce, the need to revive investment in public works to boost the economy, loss of jobs and their social effect and the trade union attitude towards tripartite social dialogue so as to allow a progress in agreed policy measures to recover levels of employment and economic activity which contribute to social peace and a fair and equitable distribution of wealth.