NATIONAL UNION TRAINING PROGRAMME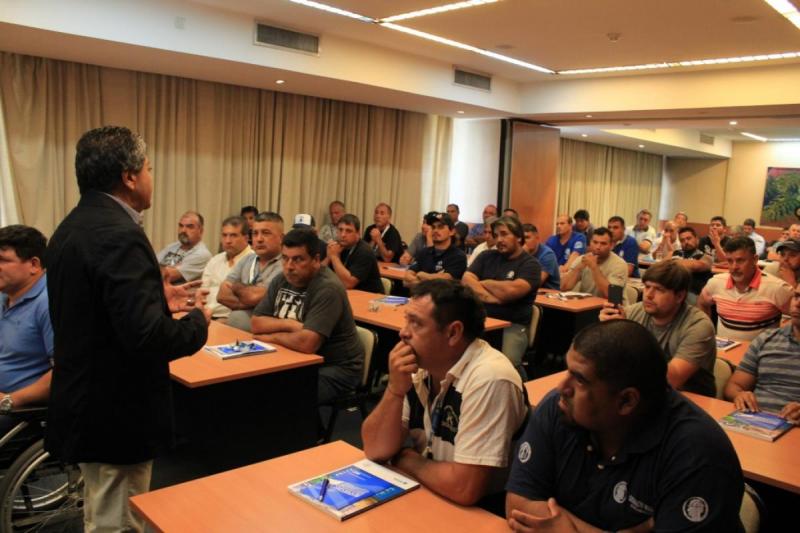 13/12/2016
NATIONAL UNION TRAINING PROGRAMME ON HEALTH AND SAFETY FOR DELEGATES
MORE PREVENTION ACTIONS
TOGETHER WITH UOCRA AVELLANEDA, CAMPANA, CAPITAL FEDERAL, LOMAS DE ZAMORA, LA MATANZA, MONTE GRANDE, MORENO, PILAR, SAN MARTIN, ZARATE AND NORTHERN ZONE, IT WAS HELD A DAY OF TRAINING FOR THE DELEGATES FROM DIFFERENT READY-MIX CONCRETE PLANTS.
With the aim of improving the working conditions and environment in ready-mix concrete plants, UOCRA, through the Department of Occupational Safety and Health (OSH) and UOCRA offices, we carried out a training day for revalidation of contents of the Manual on safety and health at Work for ready-mix concrete plants.

Contents of the Manual were described during the development of activities. It will be divided into two volumes: 1st volume develops protection and prevention measures that we have to implement in different stages of work at plants and the 2nd Volume develops them during the work stage, at the end there will be a booklet with technical specifications with the aim of reporting working conditions in plant or in works at different stages.

Closure was in charge of UOCRA Secretary General Gerardo Martinez, who highlighted the strategic importance of the ready-mix concrete plants developed within the industry and our trade union organization; at the same time he reviewed the current employment situation of the building industry with the delegates and the importance of partnership among militants, delegates and the workers of the plants; also he remarked the role our Trade Union in labour relations and modern trade union action within the national context.