106TH INTERNATIONAL LABOUR CONFERENCE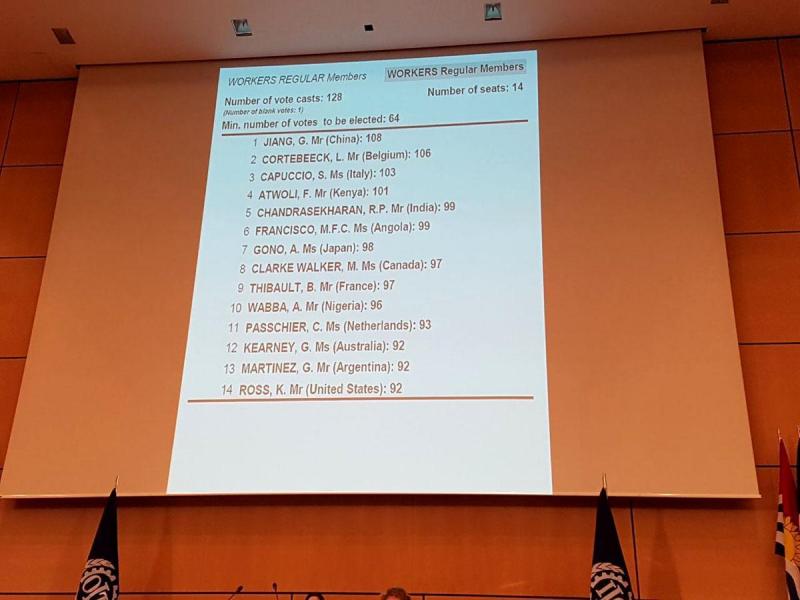 12/6/2017
GERARDO MARTINEZ ELECTED AS HEAD MEMBER OF THE NEW ILO'S GOVERNING BODY
106TH INTERNATIONAL LABOUR CONFERENCE
Gerardo Martinez, Head Delegate of the Argentine Workers was elected for the term of three years as Head Member of the new International Labour Organization ILO´s Governing Body, with 92 out of the 128 possible votes in the framework of the 106th International Labour Conference, which takes place in Geneva, Switzerland.

Martinez, Foreign Affairs Secretary of the Republic of Argentina CGT and Head of the Building Workers Union of the Republic Argentina (UOCRA) renewed, through this election, his position for workers in the Governing Body, ILO´s Executive Body, United Nations specialized agency created in 1919, which deals with issues related to labour and international labour relationships and it is composed of government, unions and employers representatives.

During his speech at the Plenary Session of the Conference, Martinez stressed the need for "Governments to promote development with equality of opportunities" in order to "find solutions to fight poverty, unemployment, especially those for the young people, modern-day slavery and child labour". He also added that there is an attack on labour rights and growing inequality that requires an active role of the ILO and greater inclusion in the powerful stage of the real economy" and said that ";;workers do not accept a world where inequalities are deepened, concentration of wealth increased and the only response is the precarization of labour and social conditions".